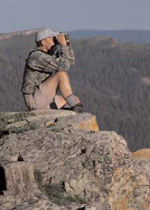 I have been an avid backpacker, mountain climber, photographer, hunter and adventure seeker all of my adult life. I have a passion for the outdoors and all things wild. Because of these interests I started a hunt scouting service designed to help Do-It-Yourself hunters with unguided hunting trips in Colorado. I have more than 16 years experience helping hunters and with my service we have a success rate far exceeding the state average.
I also have more than 30 years of big game hunting experience and am willing to share that information and the many years of experience I have with you. The continual pursuit for finding quality big game has become a year-round quest for me. From Spring through late Summer and even through the hunting seasons I am constantly scouting and researching new areas to provide you with a better hunt. During this time I log hundreds of foot miles and thousands of road miles learning the habits, travel patterns and areas that big game animals use.
The knowledge I've have gained over these years will give us an advantage to help you realize your dreams of a successful big game hunt in Colorado.
Have a look around the site and if you have any questions feel free to email or call me, I'd be glad to answer any questions you might have about planning your self guided DIY hunt.